The Precision Aging Network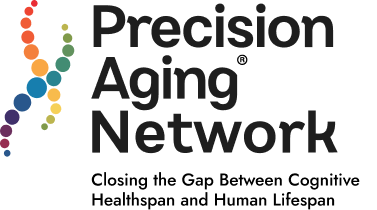 The Precision Aging® Network (PAN) brings together a team of established researchers, scientists and community partners in a nationwide effort to better understand how and why people experience brain aging differently, with the ultimate goal of developing more effective treatments and interventions targeted to the individual.  The initiative aims to uncover the best ways to optimize brain health across the lifespan and extend our cognitive healthspan.
The McKnight Brain Research Foundation is proud to have provided seed money for the project, which is now funded by a $60 million grant from the National Institutes of Health. Aiming to attract one million participants, PAN is a collective effort to learn more about age-related brain diseases.
The Precision Aging Network aims to create a framework for a precision medicine-based approach to predict individual brain health risks and discover personalized solutions to help individuals maximize their cognition over their lifespan. The model takes into account a person's genetics, lifestyle, environment and other factors to customize care, rather than relying on a one-size-fits-all approach.
Aiming to involve one million people in the collective effort, PAN has partnered with MindCrowd, a free, online attention and memory test anyone can take in just 10 minutes. With more than 400,000 participants to date and growing daily, MindCrowd is being used to establish the largest and most diverse lifespan study on cognition in the country.
The Precision Aging Network Team
---
Led by Dr. Carol Barnes, Director of the McKnight Brain Institute at the University of Arizona, the Precision Aging Network team is supported by a network of investigators at the University of Arizona as well as academic, public and private partners, including Arizona State University, the McKnight Brain Institute at the University of Miami, Translational Genomics Research Institute (TGen), Baylor College of Medicine, Emory University, Georgia Tech, Georgia State University and Johns Hopkins University.
Learn More About the Precision Aging Network